Surviving mentor madness
One key component of Techstars is access to relevant business mentors. Growing a startup is hard, and having the right guidance from a mentor can save you time, teach you something faster than you'd learn on your own, offer personal support through shared challenges, and, in general, help you survive an intense accelerator program.
During the 3-months of Techstars, the Mockmate team met weekly with 5-8 mentors. In those meetings – all on Zoom – we shared our updates, asked for help, discussed our strategy, and our go-to-market approach. We're grateful for this mentorship support, and we hope to continue working with each of them!
So what is Techstars mentor madness?
A mentor-matching extravaganza!
A business mentor, like any other, uses their experiences to guide their mentee, acts as a soundboard for ideas, and facilitates access to a wider network. (We wrote about how mentoring can help your job prospects and it is similar when building your business.
Like everything in 2020 & 2021 (so far), Techstars Mentor Madness was adapted due to covid. Instead of meeting in-person, we met online.
Why is it "madness"?
Because in just 8 days we had 81 meetings. That's 81 times of pitching our company to individual mentors in just 18 minutes. We never met anyone in person, it was all over Zoom, which means we were hyper-tuned to each mentors' reactions, but also that we could drink unlimited coffee.
Our schedule looked like this:
Each day we had roughly 8 meetings in 4.5 hours with one short break. It was certainly difficult to explain the concept of automated interviewing and how Mockmate is going to take over the world, meet the mentor and gather what they would offer to us, and answer any questions, all while managing the time available efficiently.
By the end of the two weeks, not only did we experience some Zoom burnout, but we also learned a lot about how to best pitch Mockmate.
Who are the mentors in Techstars?
Usually, Techstars mentors are people who have created startups or scaleups, or who have experiences as employees in early-stage companies, or other special applicable skills (like in employment law, or at a coworking, or in team training, etc.).
At Techstars Berlin in 2021, they were about 80% Berlin-based, with other scattered across Europe. About 28% were female, and we estimate about 13% were persons of color.
For the mentors, on the other side of that strenuous schedule above, we can imagine it was tough to listen to 11 companies pitch their startup. The mentors are all unpaid volunteers, and we appreciate them for sharing their time and giving us feedback.
Is it mentor matching or an interview?
Since Mockmate offers an interview product, it's easy to see much of life is like an interview.
Mentor madness felt like a hiring process.
Before each day, to prepare for our meeting, we researched the mentor – their LinkedIn profile, their company, and their public social media channels.
Then, we followed a specific format in our meetings (pitch, question and answer, call-to-action), slightly adapted from a traditional job interview, but still an information-gathering session.
And of course there was the follow-up, which was exactly like our recommendation how to follow up on interviews, we sent thank you emails and tailored each with what we discussed.
So, this mentor-matching was basically a two-way interview, except we could be a bit more direct with our struggles and challenges.
How did we decide which mentors to pick?
Since we had so many pitches and meetings each day, we took notes during the calls.
Taking notes also helped us to gather insights on how our pitches went. If several mentors had the same question – we'd know that it was up to us to adjust how we presented the company. Sometimes mentors would also give conflicting advice and writing all this down helped us to contextualize their feedback.
If mentor madness is an interview, then it is definitely a two-way interview. We wanted to select mentors that would help us, who had relevant interests and experiences, but not only to select the people we personally liked, but those provided value, including a challenger profile who had good insights that we could learn from.
In the selection process, both mentors (all 81 of them) and the mentees (Mockmate, plus the other 10 in the cohort) would have to agree to work together. It was a dual opt-in.
Since we're informed of the power of decision making, and the necessity of using a scorecard in the hiring process to avoid biases, naturally, we created a rubric to select our mentors.
After each session, we'd rank the call with a score of 1>5. It looked like this: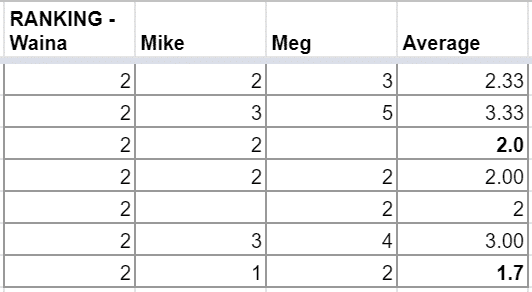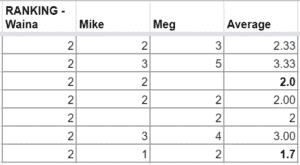 At the end of the first week, we reviewed our notes of the pitch, and the scorecard rankings, and short listed our first batch of 40 mentors.
We had a few types of mentors we were looking for, so we grouped them into categories:
Champion who would be our coach and hero; Product, a person to help guide us in product development; Sales, a person who would coach us on the great startup goal of making money; and Challenger, one to push us and contradict our approach so we could learn from it.
After mentor madness
Once we shortlisted the mentors, we selected about 10 mentors we really liked to join us in our journey. The basis of the Techstars program (particularly this virtual edition) rests on the mentorship, all of which would be up to us to organize and capitalize on.
Some mentors we approached were upfront that they couldn't meet weekly, which was wise, because we also didn't have time.
The mentors we matched with and kept up with during the program were instrumental in our Techstars experience and we hope to continue our relationship.
For more on Techstars, read our other blog.